24x24 Hennin Center-Post Cape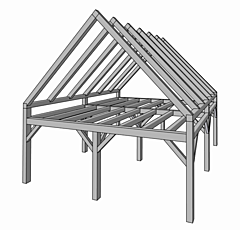 We have seen this frame used for dry storage, starter cottage on vacant land, workshop, bedroom addition, family room addition, three-horse barn, first home, two car garage with game room or apartment above, guest house (for the guest who you really want to stay forever). Expand this frame in 12-ft X 24-ft increments.
24X24 PRICING*
This kit is engineered to accommodate comfortable living spaces using traditional, all wood joinery. The posts are on 12-ft centers and the second floor kneewall is 2-ft; the roof pitch is 12/12.
Wedged Dovetails and wedged half-dovetail mortice and tenon joints lock these timbers together tightly. Center posts carry the extended second floor width and help define interior spacing and layout.
Each "bent" adds a 12'x24' space. Dormers and shed additions are easy to add. The kneewall height is also adjustable based on your needs. The possibilites are endless. The cost for adding an additional 12-foot bent is decribed below.
Our kits exceed the R-value requirements of the 2012 International Energy Conservation Code (IECC). The details of the structure as well as the insulation can be modified to meet your project, site and budget needs. Remember, most of the timber frames that we build are custom designed!
24x24 Pricing

24'x24'pre-cut kit

 

$30,800

kit raising

 

$5,000

SIP** Enclosure

 

$51,500

Install SIPs

 

$10,800

24'x24' Subtotal

 

$98,100

 
 
 

Make this building longer by 12-ft increments

additional bent
 
$16,200
bent raising
 
$2,800
SIP** Enclosure
 
$15,000
Install SIPs
 
$3,850
Add'l Bent Subtotal
 
$37,850
24'x36' Subtotal
 
$135,950
NOTES:
*All Pricing subject to change without notice. Prices are FOB Woolwich, ME; shipping is not included. Included, but not shown, are second floor boards: nominal 2-in v-match T&G with rough opening for stairs.
Timber Frame Specs: posts: up to 12-ft - knee wall: 2-ft - ceiling height: up to 10-ft - roof pitch: 12/12
**Panel Specs: 5-1/2-in R-25 wall, 11-1/4-in R-45 roof EPS foam-core panels
The Wood: We can build these frames with nearly any wood species. Prices above are for Eastern Hemlock or Eastern White Pine. Green timbers are planed, chamfered, and oiled to protect the surface, reduce checking, and slow the drying process. All timbers are planed full dimension unless otherwise specified.
Kits include all pegs and wedges, as well as nominal 2-inch tongue and groove decking on the second floor.
Curved or straight braces are available per your specification.
After taking their Design & Build course, I had the confidence to build this timber frame house, from a version of their stock plans. And you will too.

We drove thirteen hours through a blizzard to take the timber framing course and it was worth it. You can tell this family has been teaching people since the 70's. 70's?! These guys are great. I hope to be back to learn but just saying "HI" would be a win. They've probably mapped out every minute of the week for the students but it still feels relaxed. Best of all, I can say with confidence, I can build a house. A timber structure. And I will

Excellent course on house building. Teaches about every aspect of house including good design principles.

Shelter is a phenomenal resource of skill, intelligence, and good people. I took the two week design/build course and it was wonderful. I left with the confidence to assess my own home and any future home that I may build or purchase. Shelter is the real deal.

Instructors make sure their lectures are clear and understandable to the students. Great follow through.

Nothing can beat the hands-on experience that my daughter and I enjoyed for three weeks at the shelter institute. I have kept in touch ever since. I am disappointed that I cannot leave a comment on Pats chainsaw videos. The system does not seem to acknowledge our presence.

As a second generation carpenter/joiner Shelter Institute's online course is a must for all who are interested in Timber Framing and the enjoyment of life.

I have found the team to be responsive, caring and helpful. A pleasure to deal with.

So far our online courses are phenomenal!!! We love Pat, Gaius, and Blueberry! Gabe is pretty awesome too!!